Roof Repair Contractor in Loves Park, Rockford, Belvidere, IL & Nearby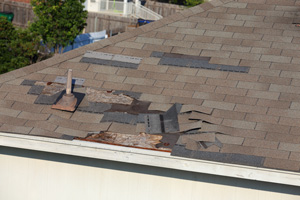 Whether it's minor shingle damage or severe storm damage, you should repair your roof right away.
Fast and reliable roof repairs from one of IL and WI's best roofing companies!
When you roof is damaged, it's essential that you get quality repairs as quickly as possible to prevent further damage. Even minor issues can become severe problems such as roof leaks if they are left unaddressed for too long. At My-Pros, we provide expert roof repair services for all types of problems, and we can help you restore your home.
If you have broken or torn shingles, storm damage, or a roof leak, call us today at 1-844-795-9649 or click below to get a free cost estimate on roof repair services. We provide expert roofing solutions in Loves Park, Rockford, Belvidere and the surrounding areas.
Common roofing problems in Northern Illinois & Southern Wisconsin
All roofs eventually break down over time due to exposure to the elements. However, proper repairs and maintenance can extend the life of your roof and ensure that your home is protected. At My-Pros, our experienced professionals can inspect your home and determine the right roofing services for your needs.
In the midwest we often experience severe weather including hail storms, high wind and more that can inflict damage to the roof and other exterior aspects of our homes. At My-Pros we offer fast and efficient hail damage, storm damage, and roof dent repair services that will leave your home protected and looking like new.
On top of that we can help with a variety of other roofing problems, including:
Wind damage
Damage from falling branches or trees
Hail and storm damage
Broken or torn shingles
Roof leaks
Problems with your roof flashing
Damaged gutters and downspouts
Improper roof ventilation
Wood rot
Before and After
Before

After

This homeowner hired a roofing contractor to replace his roof; however, he quickly realized he had hired a contractor that was not capable of properly installing copper counter flashing. That's when he turned to My-Pros to finish the job. We sent out a crew led by Tim Juno to install the copper flashing that the home deserved. The homeowner was very relieved to finally have the project completed!

Before

After

A hail storm had damaged this Roscoe, IL roof. My-Pros met with the homeowners' insurance adjuster and received coverage for a full roof replacement.

Before

After

This home had received storm damage from a recent hail storm. My-Pros met with the insurance adjuster and was able to get the homeowner a new roof from the damage the hail storm caused. The homeowner chose a Mission Brown a CertainTeed Landmark shingle. We were able to tear off and completely replace the roof in only one day!

Before

After

The existing flashing around the chimney of this Rockford, IL home was old and was starting to rust. Using a grinder we removed the old worn flashing and installed new durable, rust-resistant flashing. The dust you see in the after picture will wash away and leave this home's chimney looking good as new.

Before

After

When this family retured from a 6 month vacation in Arizona, they found a large hole in their roof and their kitchen ceiling collapsed. We knew we had to act quickly to help repair this home. We tarped off the area so that rainwater could not enter the home. We then had to mitigate the water and any possible mold or mildew my demolishing part of the wall and ceiling. We then got to work solving the major issue of the hole in the roof. By replacing all the damaged decking with new wood, the roof will regain its structural integrity. We then laid 30 year CertainTeed Landmark shingles in the color Georgetown Grey and a new ridge vent. The kitchen is being restored to its original state and the home will not only be protected, but now has a beautiful new roof.
Get your free roof repair cost quote today!
If you need roof repair services for your home, My-Pros is here to help. Our roofing experts can provide you with the right solutions to roof leaks, storm damage, and more. Call us today at 1-844-795-9649 or contact us online to get started with a free roof repair cost estimate in Loves Park, Rockford, Belvidere, Roscoe, Beloit, Machesney Park, Harvard, South Beloit, Rockton, Marengo and the nearby areas.
Looking for a price? Get a no cost, no obligation free estimate.