Expert Metal Roofing Contractor in Rockford, Loves Park & throughout IL & WI
We Will Match or Beat Any Comparable Estimate by 10%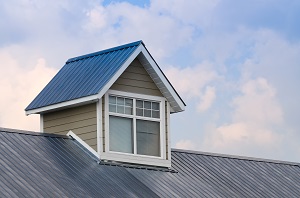 Reap the benefits of all that a metal roof has to offer with My-Pros' expert installation.
Metal roofing has been growing in popularity as a common choice for a roofing material because of its exceptional protection against all elements. Their ability to withstand almost any weather element has made them superior to other roofing materials.
My-Pros specializes in the installation, repair, and replacement of metal roofs. We offer all types of metal roofs including standing seam metal roofs, metal roof shingles, metal roof panels & sheets, and more. We also offer a variety of metal roof colors and styles to fit any home, garage, barn, or other structure.
If you live in Belvidere, Rockford, Loves Park or any town or city nearby, contact us today for a free roofing cost quote.
Advantages of metal roofing:
Metal roofing has unique characteristics that separate it from other roofing materials. Unlike asphalt shingles or wood and slate roofs, metal can withstand most elements, weather conditions, and other impacts for long periods of time.
Wind and hail resistant
Fire resistant
Low maintenance
Lightweight
Superior strength and durability
Versatile style options
Products
Founded in 1963 and now operating over 20 locations across the continental U.S., Metal Sales is the nation's largest manufacturer of metal roofing, wall and building systems.
Metal Sales Manufacturing Corporation Roofing
The metal roofing products available from Metal Sales Manufacturing Corporation are resilient and have several applications, including residential, commercial, and agricultural. These readily available products can make a big difference for your property's protection and aesthetic appeal.
Benefits of metal roofing:
Maintenance-free
Extremely durable
Add value to a property
Energy efficient
Available in a variety of colors
Striking design options
With over fifty years of experience in the industry, DECRA is a leader in manufacturing stone coated and steel roofing systems. We aim to produce superior metal roofing materials while committing to improvement and abiding the highest building standards.
DECRA provides metal roofing products that are not only beautiful and elegant but endurable with longevity to last years!
DECRA metal shingles come in a variety of styles and colors to help you accentuate your home and gain instant curb appeal. We have two types of tile shingles to choose from, DECRA Tile and DECRA Villa Tile. DECRA Tile resembles old world Mediterranean beauty, while Villa Tile provides a more traditional Italian appearance.
Tiles include these features:
Hidden fasteners
Lightweight design
No special installation tools needed.
Battens reduce energy consumption.
Get a free metal roof cost quote today!
When choosing to install a metal roof on your home, you are not only enhancing the appearance, but its overall function and efficiency as well. Metal roofs surpass all other roofing materials in weather resistance, resistance to cracking, shrinking and eroding and their ability to remain energy efficient while protecting your home from severe storms.
Our roof replacement services are available all throughout the Greater Rockford area, including Poplar Grove, Byron, Cherry Valley, Winnebago, Davis Junction, Clinton, Pecatonica and nearby!