About My-Pros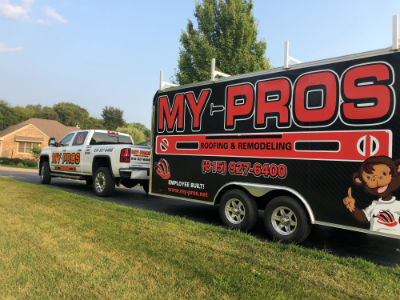 Why Choose My-Pros
We match or beat comparable estimates by 10%!
Fully insured & bonded
Locally owned & operated since 2012
Employee built with local crews
A worry-free guarantee
Free estimates on all services!
My-Pros is a family operated business that specializes in exterior renovation and interior remodeling. We are a full-scale roofing contractor that also specializes in siding, skylights, bathroom & kitchen remodeling, and home additions.
We are licensed, insured and bonded contractors ready to walk you through the whole insurance claim process. My-Pros is dedicated to giving you a helping hand with your insurance carrier while handling the repairs to have your most prized investment put back in better condition than what your property was in before the storm took place.
If you're interested in roof repair or roof replacement services for your home, give us a call today at 1-844-795-9649 or contact us online. We can provide you with a thorough evaluation and a free estimate on the roofing or siding services you need for your home.
About the Owner
My-Pros owner Joe Metz
As a Father of 3 girls and 1 boy ranging from 1.5 years old to 12 years old (as of 2017) raising our children with my best friend/wife is something that is so special that words can't describe. In my truck you will find tools, laptop, business cards and of course coloring books, dolls, and toys. One thing I can promise you, is that this guy enjoys his tape measures being colored on or princesses stickers placed on it! My wife Jessica doesn't know this about me, but she is my role model that is always there for me after a hard day or understands the long hours while being the best Mom in the world smothering the kids with love. I'm not trying to brag but it is hard not too when you are the luckiest man in the world.
During my teen years, I worked for my Father's construction company building houses which I learned a wide variety of construction including framing walls, installing floors, windows, doors, siding, roofing, retaining walls also a floating dock. After a year of college, I found myself back in the construction field working as a Exterior Remodeling Salesman which then progressed over the next 18 years to different positions such as Insurance Adjuster, Team Leader, Production Manager, Sales Manager, Hiring & Training Director, General Manager and Owner.
While working in the field with customers I learned quickly that my competition and even some of the guys and gals I was working with were misinforming the property owners on the claim process or even the remodeling aspect of the repairs. I have always been willing to help teach others how to do the job. There are several exterior remodeling owners and managers in the state-line area that I'm proud to say: "They learned the business of being in the exterior remodeling business while riding in my truck and most of them are doing very well and today they now inspire me to do better."
In 2013 I took the time to write a book Sell Build Collect Storm Damage which has been sold in over 30 different states to salesman, general managers, owners which bought enough copies for everyone in their company and even a shingle manufacture purchased 18 books. I can only change one property owners opinion of being a good contractor at a time but my book will hopefully have a small percentage of changing contractors to be better.